Dental and Orthodontist Services
Friendly Dentists in Santa Ana, South Coast Area
Why OC Dental Center for General Dentistry?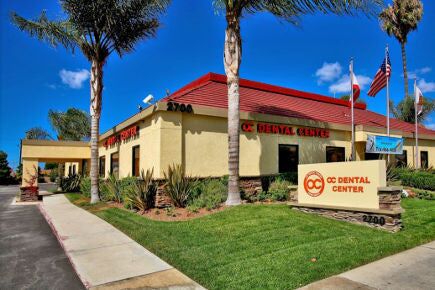 OC Dental Center is a Santa Ana dental office that has been making beautiful smiles for our patients for over 20 years. We make it very easy for our patients to afford all of our general and cosmetic dental procedures by offering affordable financing plans and also accepting many different types of insurances. All of our dental procedures are carried out right in our Santa Ana dentistry so you don't have to go to different specialists to finish your dental work.
OC Dental Center
2700 S Bristol St, Santa Ana, CA 92704
(714) 966-9000
Mon, Wed & Fri: 9AM-6PM, Tues & Thurs: 9AM-7PM, Sat: 8AM-3PM. We are CLOSED Sun
We are also a "Green" dentistry, meaning we use all-natural, organic toothpaste, mouthwash, and other natural oral care products that will nurture your mouth's overall health. We are just minutes from South Coast Plaza.
For a Santa Ana Family Dentistry for Kids and Adults, Contact OC Dental Center Today to Book Your Appointment! (714) 966-9000
Affordable Dentist Santa Ana
Below you will find some of the dental services we offer.
Dental Restoration Santa Ana, CA
Cosmetic Dentistry
Family Dentistry