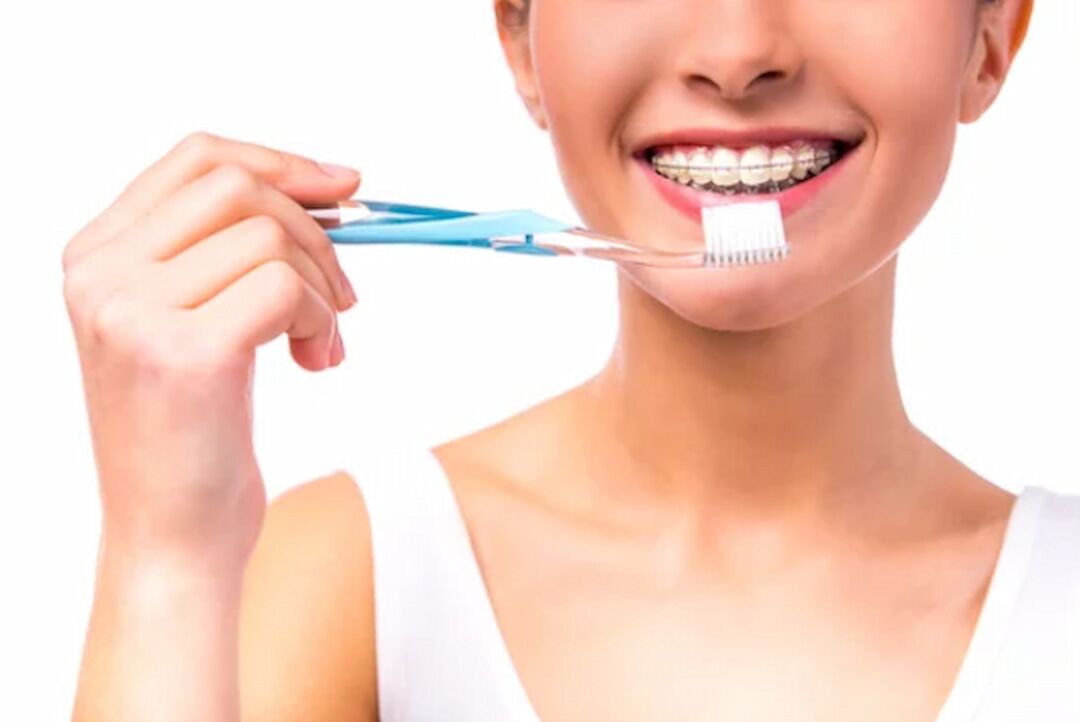 When a person gets braces, one of the hardest things about caring for those braces is ensuring that you're brushing well to keep them clean. Your toothbrushing process needs to be able to get food particles from behind wires and brackets and make your teeth squeaky clean around the braces.
Top 3 Toothbrushes For Braces
This is a simple electric toothbrush which comes in either black or white and will include a charger as well.
A small head fits where you need it to go
Remove plaque effectively
It is very gentle
The shape is designed to go over the brackets, with longer bristles on the edges to reach clear to the teeth and get a complete clean everywhere.
V-Shaped bristles closely fit the tooth
Designed with 45 degree beveled bristles
It comes with an interdental toothbrush
This is a simple electric toothbrush which comes in either black or white and will include a charger as well.
Great scrubbing action
Brushes away debris on the braces
The design allows you to get a deep clean all over
It certainly could be a good idea to pair your toothbrush with something like a water-pik to help dislodge any stuck food particles and get a deeper clean around your brackets. You should choose a toothbrush that works for your mouth and will help you maintain your dental health, and keep your teeth fresh and clean while you have braces.
We have several tips and some recommendations for helping you choose the best toothbrush for braces.
Now, let's look at some really great options to consider.
Best Toothbrushes for Braces Reviews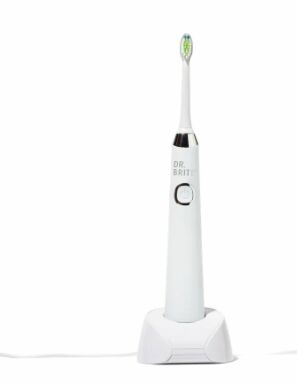 If you're looking for a simple electric option, this simple Sonic Toothbrush is a great find. It comes in either black or white and will include a charger as well. The nice thing about these electric toothbrushes as orthodontic appliances is that they aren't big and bulky. The charging stations aren't bulky either.
It's a simple electric toothbrush with a small brush head to fit where you need it to go. These have been shown to remove plaque 99% more effectively than some of the other toothbrushes out there.
It's a simple brush that will feel like you cleaned your teeth and braces professionally every single time. It's gentle and effective so you can get around every bracket and wire with ease but not cause yourself pain and discomfort.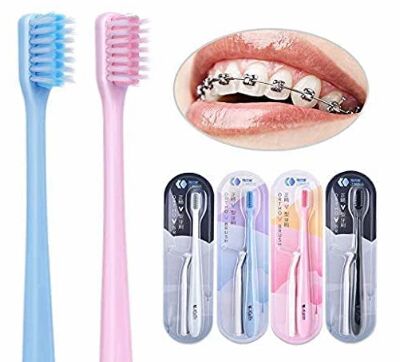 The Y-Kelin toothbrush is a great choice thanks to the V-shape in the bristles. This is an orthodontic toothbrush and that V helps you get around the brackets. The shape is designed to go over the brackets, with longer bristles on the edges to reach clear to the teeth and get a complete clean everywhere.
These are regular toothbrushes so there are no batteries or chargers necessary. The specially shaped bristles measure up at 45-degree angles to be sure you can get clear to the gums and still get clean around the brackets too.
The head is small so that you can reach the furthest recesses of your teeth. The extra soft bristles will be nice and gentle on your teeth. You won't have to worry about catching, scratching, or missing places that the bristles simply can't get to here.
If you're looking for an orthodontic handheld toothbrush that really cleans every nook and cranny, the Dentrust braces toothbrushes might be a great fit. These brushes are said to be clinically proven for a better clean when you wear braces.
These are very unique and have a three-way brush on the head. There are bristles that face each other and come together and then another set that meets on the backside. It's almost like three very small brushes in one. The result is a brush that can easily clean the tops, fronts, and backs of your teeth.
The design allows you to get a deep clean all over, including being able to get the challenging parts around the wires and brackets on your teeth. The brush is sturdy and comfortable to hold onto. The bristles are very soft and gentle as well.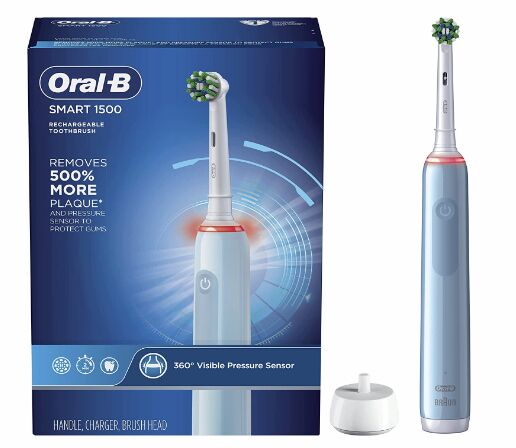 If you're willing to spend just a little bit more money on a toothbrush, consider this Oral B Smart toothbrush option. It has that round brush head that we talked about earlier, making it a great choice when wearing braces. It's also a small head so it's easy to reach anywhere in your mouth.
This is a rechargeable toothbrush that allows you to use a small little charging pod to charge as needed. The non-bulky design even makes it easy to take care of your oral hygiene on the go if you need to. The neck is also thin, allowing you great reach in your mouth.
This toothbrush is great for just about any need. It uses a 360-degree sensor on the brush head, which is meant to help prevent you from pressing too hard by mistake. It's better for your gum tissue and your braces in that way. You get a deep clean over everything.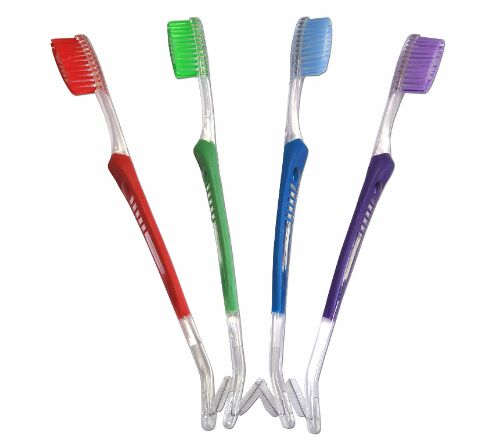 This Dental Aesthetics toothbrush is another designed purely for orthodontics. It's a manual brush and it has two ends on it to help you get everywhere you need to clean. The head is a traditional long head but still small enough to reach everywhere.
This head has bristles that come in the V shape to help you get over your brackets and get a deep clean to those surrounding areas as well. It's a nice soft brush so it will be gentle and yet effective.
One cool additional feature to this brush is the fact that it also contains a small interproximal head on the other end. You can use this to get between your wires and brackets, particularly in those harder to reach areas, or if you know there is food or something in those spaces.
The TEPE orthodontic toothbrush has the perfect design to make sure you can reach everywhere and do it well. This toothbrush has the round head with incredibly soft bristles. The round head gets a deep clean over your brackets and around your entire mouth.
However, this toothbrush adds in an angled head with a steep angle. The steep angle allows you to take a specific approach and reach everywhere in your mouth with ease and comfort. You can even get clear back to the tips of those molars hidden in the recesses of your mouth.
The brush has gentle qualities that clean your braces and lets you reach the hardest areas too. It's extra soft and incredibly narrow so you can get your entire mouth brushed to perfection. The brush is also made from 96% plant-based plastic so it's a great choice if you prefer to keep things green as much as possible.
Finally, the Triple Bristle brand Sonic toothbrush is another great find. This brush comes in different color and package options but you will notice the unique head design, making it great toothbrush for braces. It has a 3-head design similar to the Dentrust manual toothbrushes we shared above.
The triple brush design comes together to help you get a deep clean on every tooth and bracket. It's electric so it does the vibrating and rotating work for you around those wires and bristles. It even has a brushing timer so you know that you don't rush the process too much.
The toothbrush is comfortable to hold onto and will reach all the deep places in your mouth. This brush will give you more than 31,000 sonic strokes per minute for some amazing deeper clean results.
How to Choose the Best Toothbrush for Braces
When it comes to choosing a great toothbrush, you need to know the details. Understanding different features can help you choose the toothbrush that will provide the best clean. Many professionals recommend using something that has soft but flexible bristles, a comfortable handle, narrow neck for mobility, and possibly even rounded brush heads.
You can certainly look for orthodontic toothbrushes that are made to help clean around your wires and brackets.
Here are some details to keep in mind as you search for the right toothbrush for braces.
Your budget will be an important factor. You will find really great toothbrush options that will simply seem completely unaffordable to you. After all, you're already paying for braces, right? If the price is not a concern, you can totally shoot for some of the best with high-end prices.
However, if your budget is a bit tighter, there are several options that are far more affordable overall and you could focus in on those instead. There are suitable options in every price range so don't feel like you have to break the bank to get a decent solution.
You could easily spend over $100 but you can just as easily spend under $10 and get a great solution either way.
Braces are made up of metal brackets and slim wires that pass through each bracket. The wire is held in place by small rubber bands. Many orthodontists recommend using a rounded brush head for brushing with braces. The round head can easily cover every bracket and its bristles can work around the bracket to help get the full area clean. A small, round head might be best because it will give you more reach overall and still be able to clean every tooth and bracket.
A round head is not required but it's certainly something to consider. If you do choose not to use a rounded head on a toothbrush, we recommend looking for something small still to reach the hard places.
Finally, one quality you will want to consider is the bristles. With orthodontic braces, you have a lot of unique places to reach when brushing. You've got to be able to clean your gums, around the brackets and teeth, and make it all the way to the back of your mouth.
Because of the brackets, using a gentle brush that has soft and flexible bristles is your best bet. The softness will be gentle on your teeth, sensitive gums, and brackets but still, get the teeth cleaning job done properly.
The flexible nature of these bristles can help give you a better reach so you can be sure the bristles are actually getting around the brackets and wires to give you better overall teeth cleaning in the process.
Next up, you need to consider whether you want an electric or manual toothbrush. You can use either type of brush and get great results. If you want something that is going to do a lot of the work for you, electric toothbrushes can be really great. They rotate and move around.
The rotation of the head on an electric brush can sometimes do a better job at getting clean everywhere. However, if you use a manual brushing, just be sure you are being thorough and using the right head and bristles to be effective.